Nokia Lumia 928
Leverancier: Nokia (€ 0,-)
Nokia Lumia 928, met PureView camera
Aangekondigd in mei 2013 door Nokia als de meest innovatieve Nokia Lumia tot nu toe. Bij de Lumia 928 ligt de nadruk wederom sterk op de camera. Met 8,7 megapixels en Carl Zeiss technieken staat de Lumia 928 garant voor snaarscherpe foto's en video's, zoals we ook van de Nokia Lumia 920 kennen. Vooralsnog is de Lumia 928 alleen te krijgen in zwart en wit, wat een serieuze indruk achterlaat.
Helaas voor ons in de Benelux is de Lumia 928 een Verizon exclusive: alleen bellers van de Amerikaanse carrier kunnen de Lumia 928 bij een abonnement krijgen.
Nokia Lumia 928 specs
Qua specs lijkt de Lumia 928 veel op de Lumia 928:
Display: 4.5 inch WXGA HD OLED; Resolution 1280 x 768, Aspect Ratio 15:9, Pixel Density 334 ppi; ClearBlack display, Sunlight Readability Enhancement (SRE), High Brightness Mode (HBM); Luminance 300 nits (nominal max), 500 nits (High Brightness Mode); Color depth 24 bit, 16M colors, refresh rate 60Hz; Super-sensitive capacitive touch enables interacting with the display with gloves and long fingernails; Display active area: 58.37 mm x 97.28 mm; 2.5D Corning® Gorilla® Glass 2
Battery: Integrated 2000mAh battery, Li-po, BV 4-NW
Processor:1.5GHz dual core, Qualcomm MSM8960+WTR
Main Camera: PureView 8.7MP Auto Focus with Carl Zeiss Tessar f/2.0, 26mm True 16:9 optics, 1.4 sensor; Optical Image stabilization; Xenon Flash for Still Images, 1.4 sensor; Optical Image stabilization; Xenon Flash for Still Images; LED for Video; HD 1080p Video Capture @ 30 fps
Front facing camera: 720p HD video and 1.2MP still images
Memory: 1 GB RAM; 32GB internal memory (formatted capacity is less); 7GB free in SkyDrive with additional storage via subscription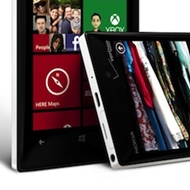 Ook aan de Nokia Lumia 928 hebben we al een aantal nieuwsberichten geweid. Vorige week kondigde Nokia onder andere via het Nokia Blog de Lumia 928 eindelijk officieel aan, waar een hoop specs bij ons eigenlijk al bekend waren. We hebben dan ook een speciale Nokia Lumia 928 pagina toegevoegd aan WindowsClub.nl. Op deze...
Lees verder...
Reageren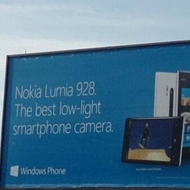 We berichtten onlangs al meerdere keren over de Lumia 928. Zo werd de Lumia 928 gespot in een Amerikaanse telecomwinkel en lekten er afbeeldingen van een witte Nokia Lumia 928. Op een Amerikaanse billboard werd de Lumia 928 opnieuw gespot: nu met de slogan "Nokia Lumia 928. The best low-light smartphone camera."   V...
Lees verder...
Reageren